"Il Crogiolo, processing that match the style of the brand"
Il Crogiolo specializes in the manufacturing and production of accessories for leather goods and jewellery, including buckles, buttons, trims, fasteners and bracelets. We make use of advanced tooling machinery for processing materials, from brass to zinc alloy, wood to plastics, and precious metals. Our long standing experience is well rooted in time, especially in the high-end Italian and foreign fashion sector. We work alongside some of the most renowned designer brands, respecting the proprietary ideas presented by each designer and oriented at obtaining the utmost excellence. Availability towards customers characterizes our work ethic, starting from the preparatory modelling stage right through to after-sales support.
IL CROGIOLO SNC:
PRESENT IN THE MOST IMPORTANT INTERNATIONAL FASHION SHOWS
The well-known magazine "Leather & Luxury" specialized in the leather goods and accessories sector, has dedicated to the ns. company a full page within the February special edition, with the reason of the Milan and Paris fashion shows, distributed in the following Fairs:
Il Corriere della Sera, in the edition of Monday 6 February 2017, talks about us on page 4 of the "Corriere Imprese" section and qualifies us as "Accessories Specialists" as well as "one of the excellences of Made in Italy".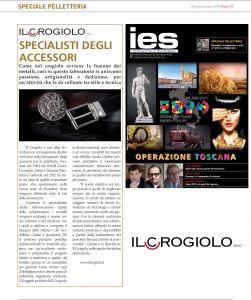 ies 2014 – Industria e Sviluppo
Confindustria puts us in its last quarterly of information among the most renowned companies in the sector.
IL CROGIOLO AT PITTI UOMO 2014
Our company sponsors one of the most creative initiatives of this important international fashion event in Florence: the interactive "My Vintage Academy" in the heart of the city, nothing more and nothing less than in Piazza del Duomo, live streaming on the site myvintageacademy.com From 17 to 20 June 2014.
We manufacture accessories in a variety of materials, and small metal parts …
We specialize in rapidly producing sample collections, including the development of models…

Una volta approvata la campionatura, si procede con la produzione vera e propria degli…
During the entire production process, we constantly apply meticulous control measures …
Il Crogiolo is at the service of its customers to help resolve any problem issues that may …