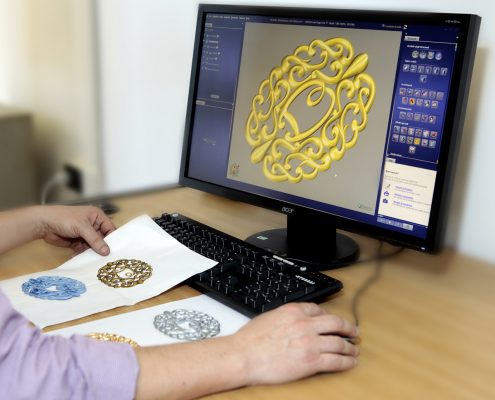 We specialize in rapidly producing sample collections, including for the development of very complex models, both in metal and resin.
Everything begins with a design presented to our workshop by the designer or modeller, from which we then derive the models. Using modern CAD and CAM software, we're able to process the design on a computer and transform it into a three-dimensional file which provides a much clearer rendition of the object to be created.
We then proceed with the creation of prototypes. Thanks to 3D printed prototypes can produce three-dimensional resin. Using both specialized CNC tooling machinery and creating test artifacts with traditional hand crafted engraving and modelling techniques.
The modelling process normally initiates from a design or pattern previously conceived by a designer, but prototypes can also be based on simple ideas explained by voice, which we are then materially capable of translating thanks to our long standing experience.
We know the technical possibilities of any sample, and if necessary, we'll propose alternatives to the dimensions indicated in the design, with manufacturing solutions that avoid problem issues, such as the possible breaking of parts or the risk of running into complications during production.
We're at our customers' complete disposal, to make certain the prototypes are exactly in line with the intended designs. This is why we dedicate the necessary time during the prototyping stage, until a totally satisfactory model is achieved.